Purdue University Alumni Association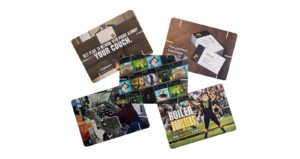 Each job holds a special place in our oversized, ink-pumping heart. But the Purdue project was especially memorable. The Purdue University Alumni Association wanted to spice things up re-invigorate the way it communicated with alumnus about university news and happenings, so we took on the challenge and executed our first glorious set of stacking cards.
Back at Mingo HQ, Team Picasso experimented with a variety of weights before ultimately landing on 18pt as the right size for the job. The folks at Purdue wanted a series of bold designs—ten to be exact—and we needed a bold, beautiful, bright printing method to match. The obvious choice: Digital, of course—punchy, consistent, and exquisitely flexible. The colorful final product was one of our proudest deliveries.
Our story is all about bringing yours to life. But how do we do that? Good question. Here, we offer a behind-the-scenes glimpse of the various printing methods we utilized to execute our latest direct mailer, "Isn't it nice when you control the ending?" We start with an attention-grabbing concept. In this case, it's about...
There's a certain process to design and creativity that we tend to follow: research, plan, create, analyze. But what if we're missing a step? Where does happiness play into the mix?
Read More
Narrative is what gives human experience meaning. Narrative is what triggers emotion, and empathy.
Read More